NATURAL LUMP CHARCOAL

AMAZONA™ charcoal is produced in the Northern Region of Colombia, mainly in the departments of Guajira, Magdalena, Atlantico, and Bolivar.  This region is characterized by dry savannah forests, which benefits the proliferation of the trees used to make our charcoal.  Trees of Trupillo and Quebracho are mainly used.  "Granadillo", "Guacamayo", and "Aromo" are used to a lesser extent.  These are species that are characterized by their high density and the excellent quality of the product obtained.
Committed to the community and certified by Colombian authorities, we are environmentally friendly and encourage the community to plant three trees for every tree cut.
Percentage:
60% of AMAZONA™ charcoal is Trupillo.  This wood is very dense and perfect for the carbonization process needed to obtain a great product.  It is a type of Legume belonging to the family of the mimosaceae also known by different names depending on the country: Mesquite in Mexico, Golden Pen in Cuba, Manca Horse in Panama, Coal in Costa Rica, and Carob Tree in Peru, Ecuador, and Venezuela.  Trupillo grows in the wild and is resistant to water deficits.  It is used as forage and its fruit has vegetable protein, fiber, and sucrose. It has a great capacity for recovery and renewal, protecting the soil and improving its fertility.
Quebracho is 30% of our charcoal.  Its wood is hard and heavy.  Its bark is thick and its foliage is bright green with soft and smooth leaves.  The trunk is straight and cylindrical, reaching heights of 20 meters in average.
Granadillo, Guacamayo, Aromo is used as the last 10%.   Aromo is the common name by several tree species known as Acacias.  These are all high density wood perfect for this carbonization process.
 Transformation Process: The process is performed in local furnaces as shown in the pictures.  This process allows the final product to reach the appropriate carbonization degree and other required properties needed as follow: Color: Bright Black,  Carbon content: 98%, Maximum Humidity: 7-9%, Fixed Charcoal Range: 80%, Lit Duration: 4 hours, Ashes: 2.5% – 5.2%.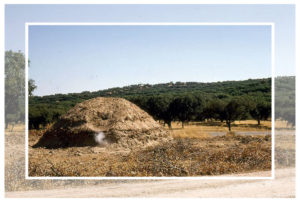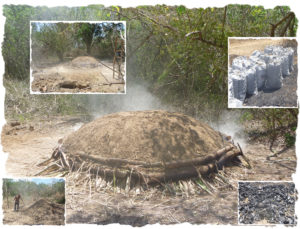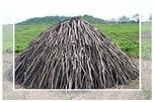 Packaging: We are initially offering 8 Kg/17.6 Lbs bags of AMAZONA ™ charcoal.  We can process 4 Kg/8.8 Lbs per request or any other weight as needed for restaurant or retail.  We can import 40 feet containers that carry around 2200 – 8Kg bags of charcoal, for a total of around 20 tons or 40,000 Lbs per container.  Bag quantity varies depending on weight of each bag.  Please contact us for a personalized quote at info@mascommoditiesllc.com or fill out the form under contact us for more information.  Click below if you would like to buy small quantities.